If you want to be fluent start with food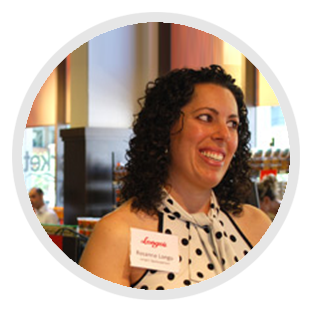 I know, shame on me for not speaking (or understanding) the Italian language. But I fluently speak (and understand) the important part of our culture – food! I speak fluent Italian when it comes to gelato, prosciutto di parma, ravioli di tartufo, latte macchiato, linguine alle vongole…I could go on all day.
I had the privilege of travelling to Italy with four other Longo's team members. We travelled with our esteemed vendor-partner Aurora Importing, also recently celebrating 60 years in business. What an experience! The purpose of the trip was to attend the CIBUS 2016 Food Show in Parma, Italy. CIBUS happens every two years and is the platform enabling companies committed to "Made in Italy" food to showcase their products.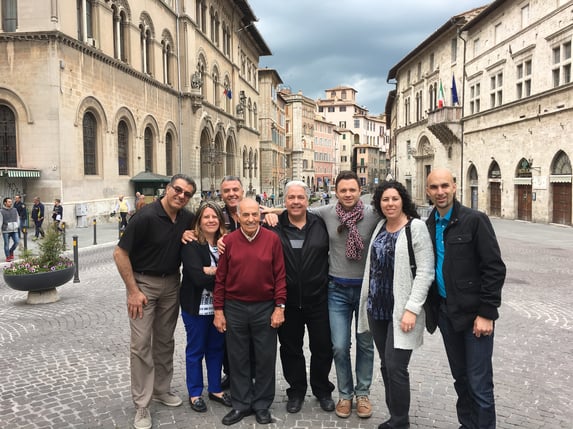 Team Longo's and Aurora Importing explored all that Italy has to offer in May.
We had two objectives. The first was to continue to build relationships with key vendor partners who are as passionate about food and family as we are. Strong partnerships put us in a great position to stay in front of market trends. The second objective was to look for innovative products to bring home to our customers. In terms of food innovation, Europe is where it all starts!
We started our whirlwind eight day tour in Rome where we had a day to take in a few of the sites, sip an espresso and share a cannoli. From there, we were off to Perugia to visit the Perugina House of Chocolate – their museum, factory and chocolate school! The Perugina Company has a rich history and Baci chocolates are made with pride. The relationship between Baci chocolates and Italians is very special. It's not simply a chocolate; for them, it's something that represents their feelings, expressed through the signature love note. That's why their tag line is "Say I Love You the Italian Way".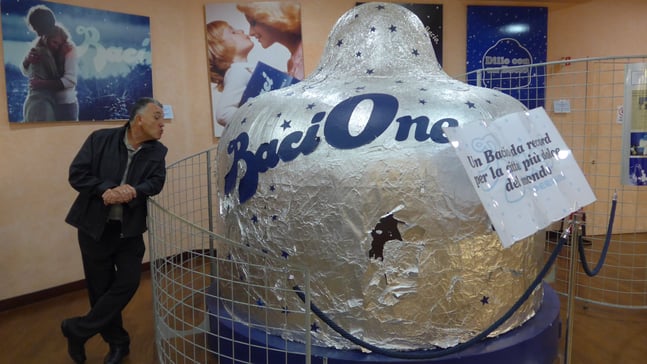 Gus Longo, Longo's co-founder, seen here at Perugina headquarters giving a kiss to the world's largest kiss, as per Guinness World Records.
From our 2 days in Perugia, we were off to Parma for the CIBUS show. This show is attended by over 67,000 people and is housed in 8 different "halls". It took our team 2 ½ days to get through the show and meet with different brands who make no compromises when it comes to the quality of their products.
We are thankful we had the opportunity to tour Balsamico Village owned by the de Nigris family (in their third generation) and dine with the Basso family (fifth generation olive oil producers). Both families are committed to producing superior lines of olive oils and balsamic vinegars made with pride and an impeccable reputation for quality. We enjoyed friendship, food, family and fantastic private wines!
And what's a trip to Parma without visiting a prosciutto company? We had the pleasure of meeting the family behind the producers of a high quality prosciutto that focuses on meticulous hand-made curing techniques in special aging rooms located high in the mountains. They continue to open the windows to let the sea air come in on windy days to help the prosciuttos dry. Just like the old days.
We were constantly on the go, walking 15,000 steps a day (unfortunately, consuming what seemed like 15,000 calories a day), but meeting the most incredible people and taking in the most beautiful scenery while we travelled between 5 regions of Italy.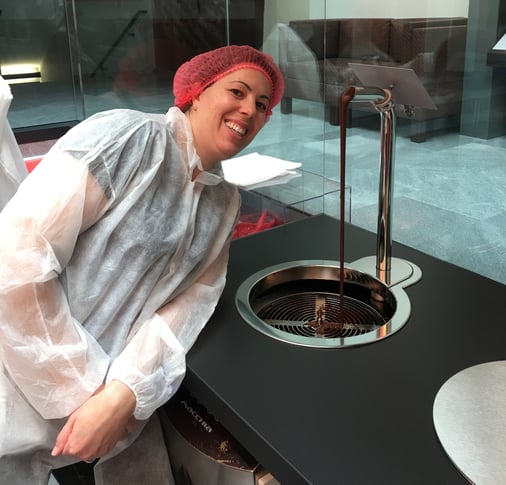 Forget the beer tap, I need to get one of these at home.
Our final leg of our journey took us to the province of South Tyrol in northern Italy. Here, we spent 2 ½ days with the Loacker family and team and visited their plants in both Bolzano, Italy and Heinfels, Austria. Loacker is a product with an iconic symbol – the Sciliar Mountain which is part of the Dolomites and the view from the windows of the plant. Their plant is located over 1,000 above sea level; a beautiful, winding drive up the mountain with breathtaking scenery. Their location exemplifies the quality and naturalness of their ingredients (no artificial ingredients or preservatives) and represents pure goodness as their tagline states.
It was at their plant in Austria that we participated in the Loacker Pastry Workshop and made our own chocolate-filled wafers. Gus Longo (67), co-founder of Longo's and 87-year old Nunzio Tumino of Aurora Importing were naturals as Patisserie Chefs! Retirement is definitely not a word within their vocabulary!
What I can tell you about Baci and Loacker is that their products are as iconic in Italy (and Europe) as Tim Horton's is in Canada. Both companies are creating value for the customer with their innovative products that continue to respect their rich traditions, quality and heritage.
Both company's strengths mirror Longo's: fresh quality products, a focus on natural and minimal ingredients (less is more), innovation and a penchant for family.
The result of our trip? We each have a greater appreciation for the Made in Italy products, the integrity with which they are made, the care and passion of the people and families behind them, their sustainable practices and care about their employees and we have made life-long friendships and business partners.
In terms of what you can expect from Longo's as a result of our travels through Italy…well, you'll just have to wait and see ;-)
Mangia tutti!
#workisplaywhenyoulovewhatyoudo
To see more of our Italy trip, check out our Facebook album.