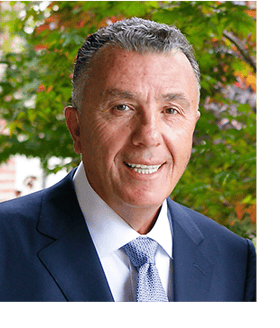 MAKING A difference 'ONE STEP AT A TIME'
An Interview with Longo's co-founder Gus Longo
This year Longo's celebrates its diamond anniversary, 60 years of serving freshness. As a part of our anniversary celebrations, we sat down with one of the three founders of Longo's, Gus Longo, to reminisce and speak of the Longo's family, their legacy and mission.
How did Longo's come into being?
While working four jobs, my father, Antonio saved money and bought a nice home in the Beaches. But driven by his dream to give us a better life, he sold the house and purchased a fruit market business - Broadway Fruit Market on Yonge Street at Castlefield. And that's how we began.
What was that one thing you and your brothers, Tommy and Joe, learned from your father?
I remember my father saying, "Always give the customer the best quality product. You could fool them once, but they would never return." A truer statement was never said, as satisfied customers have returned for 60 years.
How important is service in Longo's lexicon?
I'd say it's one of our pillars. In the early days, 50% of our business was "carriage trade"— customers would call in their order and we would deliver it directly to their homes. In many ways, we were ahead of our time. Longo's now owns and operates Grocerygateway.com home delivery service.
In 1996, when there were just seven Longo's stores, you were asked, how are you going to grow the business? And you responded, "One step at a time." What's your advice now?
As the third generation of Longo's enter the business, I tell them to work with trusted partners and give team members a chance to "step up to the challenge".
What are some of your fondest memories of this long journey?
In the early '80s, the borrowing rate was 26% and the Longo's Oakville store was in the middle of farmland. A supplier told me, "I'll do whatever you need." We worked together, provided high-quality products and superior customer service, and the customers kept coming back. That store is now in the middle of a bustling city, and the supplier is still our partner.
While Gus has seen many changes over the years, it's the relentless pursuit of providing families fresher, better quality products and great customer service that gives him confidence in the future.