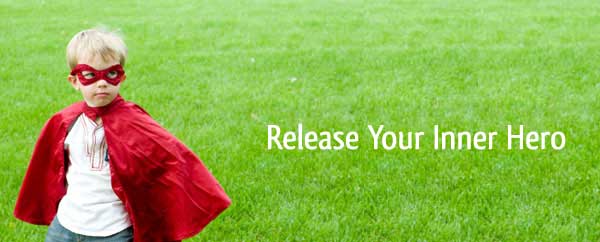 This Halloween, be a hero.
850,000 Canadians rely on their local food banks every month. That's 850,000 hungry people—right in our own backyard.
It's easy to not really know what that means. Or to know what it looks like. I take for granted that I have a good job that allows me to keep ample food in my cupboards, feed my family regularly, and that my children don't have any idea what it means to be really hungry. But there was a time when my children were much smaller, and times were a lot tougher for me. There were days that I worried about the real possibilities of running out of food. I can tell you from personal experience, that not being able to provide something as basic as food for the bellies of your small and innocent children is one of the most heart-wrenching of all human emotions. Years later, I'm often ashamed with myself for leaving that emotion so deeply in my past. It's easy to forget what it looks like. Time somehow erases it. Consequently, I don't often remember to ask myself if my neighbours are hungry. But, Longo's does. And that is the power of together.
Longo's has a longstanding tradition of commitment to inspiring healthy families within its communities. Part of that commitment is giving back. Working together, the Longo's Family Charitable Foundation and Longo's Charitable Giving Program have contributed nearly $1.5 million to charitable organizations across the GTA. And, we have no plans to stop.
This Halloween, Longo's along with Free the Children, and Campbell Company of Canada, are encouraging everyone to help support We Scare Hunger, which is Free The Children's national Halloween campaign to collect canned goods for local food banks. We want to encourage youth to support local food banks and take action by trick-or-treating for non-perishable food items instead of just candy. Students (as well as their parents) are encouraged to collect canned goods at school, work and in the community, and then drop them off at any Longo's store (or their local food bank) to Help Hunger Disappear®. $10 Food Bank Food Bags of non-perishable goods are also available to purchase any at Longo's location to help the campaign reach the goal of collecting one million pounds of food across Canada.
We're kicking off this important event this coming Saturday, October 20th at our Leaside store. Scott Hammell (Free the Children representative) will be on-hand inviting customers to learn a magic trick, along with our Campbell's kids, an inflatable can, and a hunger wall made of 3,500 soup cans. The Daily Bread Food Bank will also be on hand to help collect any early We Scare Hunger donations.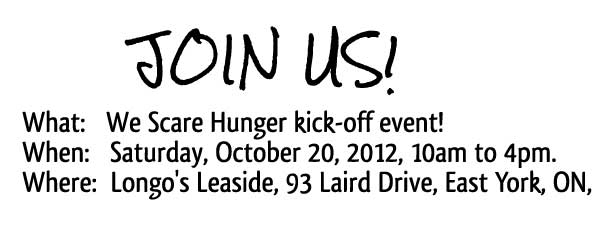 If you haven't had a chance to check out our new Leaside store, now's the time. Help us kick-off the We Scare Hunger campaign and join thousands of people (just like me and you) who are taking action. It's time to release your inner hero. :)
[For more information on how to get involved in scaring hunger, please visit the Free The Children site.]