No matter what you call it—shopping cart, trolley, or buggy—the birth of this basket-on-wheels has come to mean much more than just the easy movement of groceries.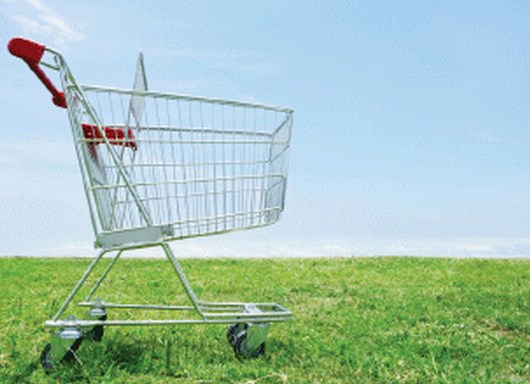 Back in 1937 the shopping cart may have been introduced to increase customer spend, but the evolution of the cart over time has come to mean less about spend, and more about comfort and inclusion—at least that's what it means to us at Longo's.
The cart has evolved to be family inclusive—changing design to include a seat for a toddler, then for two toddlers, then there was a specialized cart with an infant seat, and there are even carts designed like race cars offering a fun "ride" through the aisles for children who lack patience. (I fancy myself something of an expert in this area as I still have two of those children living in my house.)
Truthfully, I hadn't given much thought to the nested shopping carts tucked neatly away at the front of the store. I'm kind of on automatic when I walk through the doors and just grab one as I enter. It's so much a part of my routine that I don't even think about where it came from, how it's changed, or what it may mean to the other shoppers around me.
That is until a couple of our customers shared the same article through our social channels about a woman who designed her own shopping cart to meet the needs of her own family. The cart is called Caroline's Cart, and it's named after the daughter of Drew Ann and David Long. Drew Ann saw the need for Caroline's Cart after realizing her special needs daughter would outgrow a typical shopping cart, and so she made it her mission to provide a quality product for special needs children that enables their participation with the family through the everyday common activity of grocery shopping.
We believe that families should have the choice to enjoy full family shopping experiences—nobody gets left behind—and that's why we added a Caroline's Cart to our Walker's (2900 Walkers Line, Burlington) store last month. We are so excited with the positive feedback that we've already received, but better than that, the relief we see on our customer's faces when they realize that their grocery shopping just got that much easier—is priceless. (It chokes me up every time. No, really.)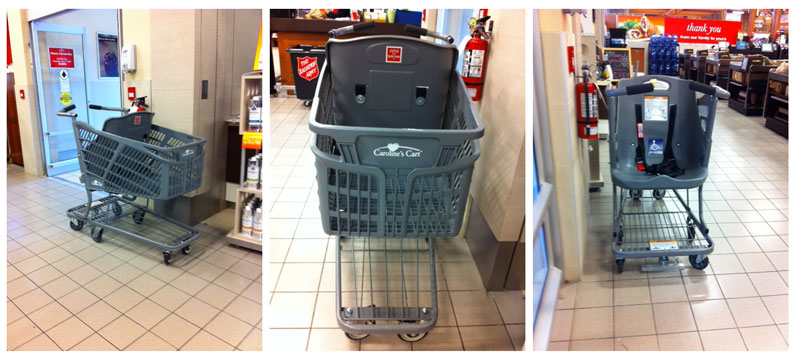 Just yesterday a gentleman came into the store with his two sons, one of them special needs and in a special wheelchair. An argument between this father and his (able-bodied) son ensued on who was to push the buggy. The father pleaded with the son to help him out as he could not push both the buggy, as well as his brother in the wheelchair. It was at that moment that our store manager, Laurie Ann, stepped in to offer help with the Caroline's Cart.
"The family shopping experience is important to us and anything that we can do to make that experience easier and inclusive for all family members is simply the right thing to do." - Laurie Ann Correia, Manager, Walker's store
The cart is not just for children, it also fits adults - up to 250lbs. Thanks to Caroline's Cart, this woman was still able to shop with her mother—after her mother had injured her leg and was unable to get around on her own.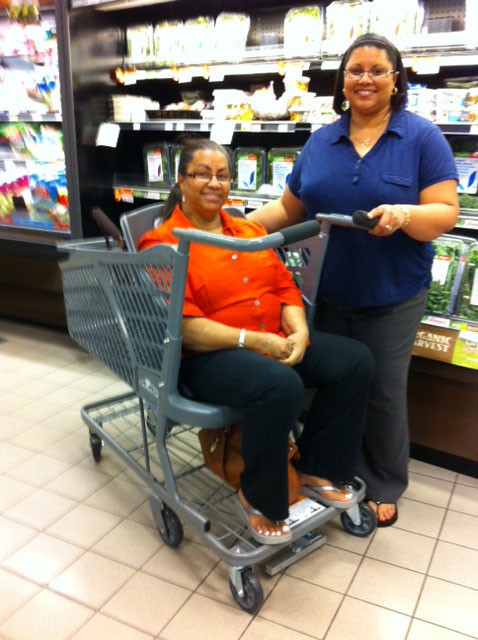 Shopping carts have become something we rely on. A trusted friend on wheels that offers a central place to carry your belongings, your children, your groceries—and even your coffee. If you know of anyone who could benefit from the use of a Caroline's Cart in one of our stores, please share this post with them.