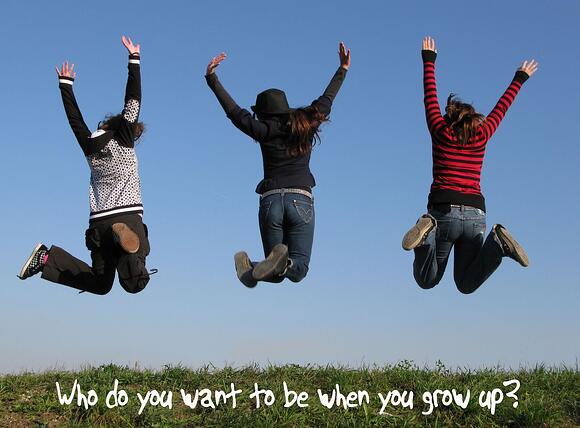 It was Tuesday. The air was crisp and clear. The sun peeked over the faded brick of the school roofline in an early morning game of peek-a-boo. Rosanne Longo stepped out of the car and pulled her coat tight. Winter might finally be here.
Just across the parking lot, the main doors to the secondary school silently beckoned her forward. There were impressionable teenage minds inside waiting for her shared wisdoms on this unassuming February morning. It was Career Exploration Day in the GTA.
Once inside, row upon row of youthful promise and perfection stared back at her in anticipation. Rosanne took a deep breath to settle her nervous anxiousness that preempted any speaking engagement. It was go time.
"I understand the pressure on you to figure out what you want to be when you grow up," Rosanne said, addressing the organized group of teens. "Given the complexity of evolving fields and the career choices there are today, I can sympathize that your task is exponentially more difficult than it was for me when I was in high school."
Glazed pupils twitched silently near the back of the room.
"I'd like you to consider—," Rosanne began, "that the question to reflect and consider should be more of WHO you want to be, rather than WHAT you want to be. Who you want to become is more of an evolution as opposed to the concrete decision of a vocation." Rosanne knew that no matter what you study or where you work along the way, you will take those learnings and skills with you, and be able to apply them to whatever it is you end up doing. And today it was her job to communicate those learnings to these fresh-minded innocents who were at the starting line of their lives.
"Find your passion in life," she continued, "And then marry that passion up with an industry. It doesn't necessarily have to be a profession. There's a big difference in being good at something and having a passion for it. There's that old saying that when you do something you love to do, then it doesn't seem like work."
A shy, attentive young man in the front row hung on Rosanne's every word.
"Do you have a part-time job?" Rosanne asked him.
"Yes," he replied, "I'm just a stock clerk at a retail store."
"Just?" Rosanne said, her eyebrow arched in challenge. "There is no such thing as just a stock clerk, or just a cashier, or just a server or even just a carpenter. There is pride and reward in doing a job the best way you can—whether you think it's visible or not. Have you ever heard someone say that they are just a doctor? "
Giggles and chatter filled the room. Rosanne understood that everyone and every job had value. That when you put your best into everything you do, no matter what it is that you do, then you are never 'just' something. And in a team-oriented business such as retail, everyone plays an important and valued role.
A tall girl with chiseled blue bangs raised her hand.
"What is the hierarchy at Longo's?" she asked.
"Well, if you are asking whether a part-time stock clerk might be considered an entry-level job, and the President of Longo's being the highest position you can achieve, then yes, that is the hierarchy. But at Longo's, everyone plays a role in the success of our team. So, while the President might be accountable for the overall strategic direction of the company, growth, opening new locations and be responsible for the jobs of 4,500 team members, a cashier is a customer's last point of contact. No matter how good the shopping experience was for selection, quality and prices of the products—if the customer doesn't have a great experience at the cash—you may never see that customer again. Think of how many customers a cashier is able to touch (in just one day alone) with a great check-out experience? Some kind words, a smile, or even a gesture to request a carry-out goes a long way."
Communicating value to teenagers can be sketchy business. But, Rosanne was unflappable in her delivery. She spoke with conviction and a genuine honesty that reflected the passion for what she does. For whom she decided to be. That earnest belief spread like a rapid contagion throughout the audience infecting the student body with starry-eyed zest.
"The value of one job cannot be compared to the value of another," Rosanne continued. "In a retail team, everyone has to perform their role to the best of their ability in order to provide the best possible shopping experience for the customer. At Longo's, lifelong learning is a way of life. It goes back to one of the founding intentions to "help team members be the best that they can be." With the exception of becoming a professional student and paying for tuition year after year, you will never stop learning, no matter what you choose to do. They key is to recognize that, embrace it and use it to help yourself and others strive to become the best you can. Every meeting, every class, every job and interaction can be invaluable if you view it as a potential learning experience."
Rosanne shared one final story as the session for Career Exploration neared its conclusion.
"One of my favourite stories involves a confession made by the Longo's Supply Chain Manager. At a 5-year planning session, when everyone was asked to speak for 1 minute about what excites them about the food business, he stood up and told the story of how he had only planned to stay at Longo's for 2 years. He had said to himself, "Once I stop learning, I will move on. It's now been 13 years and I still feel like I haven't left Kindergarten yet." To this day he continues to be a valuable team member at Longo's."
The excited chatter of young minds discussing the possibilities of their futures followed Rosanne out of the room. She shrugged into her coat feeling energized, renewed, and hopeful for the futures of these students—the next generation of great minds. It was a good day.
Rosanne Longo smiled to herself as she opened the main door and stepped out into the February afternoon. Delicate wisps of snow had zigzagged their arrival throughout the parking lot. Winter had definitely arrived.
~This creative non-fiction story is based on a real event as interpreted by a local writer & Social Media guru.