Lobster Tail and Bacon-Wrapped Beef Medallions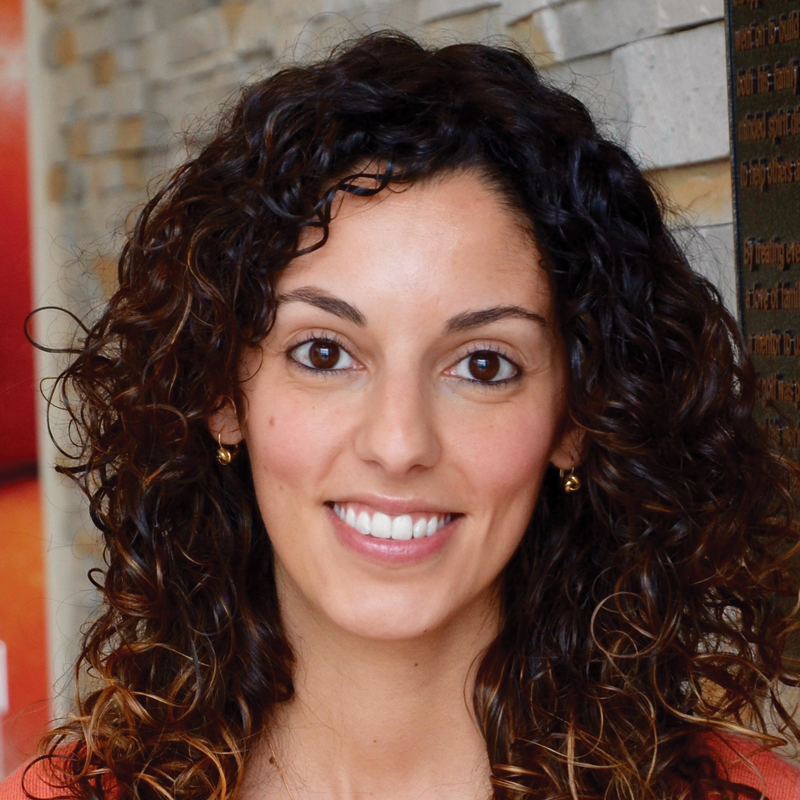 Family gatherings come in all shapes and sizes, so for us it's important to inspire the largest and smallest of holiday feasts. Take advantage of our Surf & Turf event (on until Dec. 31st) and indulge in this Lobster Tail with Pineapple Lime Butter, Spiced Bacon-Wrapped Beef Medallions and Roasted Sweet Potatoes with Sage, Blue Cheese aand Honeyed Pecans dinner, perfect for two! If you anticipate a larger gathering, this recipe can be easily doubled or tripled to fit the size of any festive party.
Lobster Tail with Pineapple Lime Butter
Prep: 10 min Cook: 10 min Serves: 2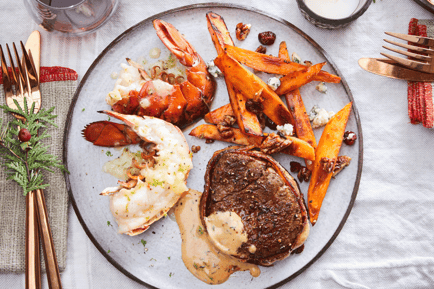 Surf Ingredients:
2 lobster tails (5 to 6 oz each), thawed
1/3 cup Longo's Salted Butter
2 tbsp Longo's canned Pineapple Juice from Tidbits
1 tbsp Longo's drained canned Pineapple Tidbits, minced
1/2 tsp grated lime zest
Pinch pepper
Surf Directions:
Cut top of lobster tails down middle to tail in half. Place on foil-lined small baking tray.
Turn broiler on and set rack about 8 inches from broiler. Place lobster tails in oven and broil for about 4 minutes or until meat is firm and pink.
Melt butter in small saucepan. Whisk in pineapple juice, tidbits, lime zest and pepper.
Remove lobster tails from oven and spoon butter over top or alongside to serve.
Per serving: 380 calories; 18 g protein; 33 g fat; 4 g carbohydrates; 0 g fibre; 3 g sugars; 640 mg sodium
Spiced Bacon-Wrapped Beef Medallions
Prep: 10 min Cook: 15 min Serves: 2

Turf Ingredients:
2 beef tenderloin medallions
1 tbsp Longo's 100% Pure Canola Oil
1/2 tsp each Longo's Garlic Powder & Longo's Spanish Paprika
1/2 tsp dried thyme
1/4 tsp each Longo's Chili Powder & salt
2 slices cherry pink bacon, cut in half lengthwise
3 tbsp 35% whipping cream
2 tbsp Longo's Salted Butter
Chopped fresh parsley
Turf Directions:
Coat beef medallions in oil; set aside.
Preheat oven to 425°F.
Combine garlic powder, paprika, thyme, chili powder and salt. Sprinkle medallions evenly with spice mixture. Wrap each with bacon and secure with toothpick if necessary.
Heat cast iron skillet over high heat. Sear medallions on both sides until deep brown. Place pan in oven and cook for about 8 minutes or until thermometer registers 140°F for medium rare or desired doneness.
Remove medallions from pan and tent with foil for 5 minutes. Add cream and butter to skillet and bring to a simmer. Pour over medallions to serve. Sprinkle with parsley.
Per serving: 610 calories; 41 g protein; 47 g fat; 2 g carbohydrates; 1 g fibre; 0 g sugars; 730 mg sodium.
Roasted Sweet Potatoes with Sage, Blue Cheese and Honeyed Pecans
Prep: 5 min Cook: 25 min Serves: 2

Side Ingredients:
Half 400 g package Longo's Sweet Potato Fries
1 tbsp Longo's Extra Virgin Olive Oil
Pinch salt and pepper
3 whole Longo's Fresh Sage Leaves
2 tbsp Longo's Chopped Pecans
1 tsp Longo's Honey
1 tbsp Longo's Dried Cranberries
1 tbsp crumbled blue cheese
Side Directions:
Toss sweet potatoes with olive oil, salt and pepper. Spread on a parchment-paper-lined lined baking sheet. Roast for 20 minutes. Meanwhile, rub sage leaves through residual oil left in bottom of bowl to coat. Set aside.
Toss pecans with honey and scatter onto sheet. Add sage leaves. Roast for 2 to 3 minutes or until sage leaves start to curl at edges and pecans are fragrant.
Transfer sweet potatoes to serving dish. Crumble sage leaves over top; sprinkle with glazed pecans, dried cranberries and blue cheese.
TIP: Replace sage with 1 tsp chopped fresh rosemary and toss with sweet potatoes before roasting.
Per serving: 230 calories; 3 g protein; 14 g fat; 28 g carbohydrates; 4 g fibre; 10 g sugars; 260 mg sodium.