Longo's is Dancing with the Stars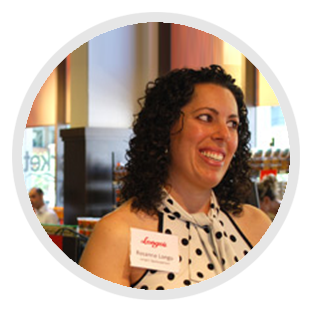 What do the Rumba and Merengue have in common with Longo's? Are they new, exotic fruits? Are they the newest Cakes of the Month? Nope. At Longo's, we're dancing in the vegetables aisles with excitement for the upcoming Halton Dancing with the Easter Seals Stars.
We're committed to inspiring healthy families within our communities and for the team at Longo's, that means not only giving back, but taking part too. This October 3rd, our very own Jessica Longo (my sister-in-law) will be a celebrity dancer at Halton's 3rd annual Dancing with the Easter Seals Stars.
The Dancing with the Easter Seals Stars event started in Sudbury about 6 years ago. It was such a tremendous success that the event is now held in 5 areas across Ontario! This event alone has raised over $800,000 for Easter Seals – an organization dedicated to helping kids with physical disabilities succeed.
Longo's has been a long-time supporter of Easter Seals through in-store programs as well as being a multiple year recipient of our golf tournament with funds supporting Easter Seals Kids' Camps.
How did Jessica get chosen to be our "celebrity" dancer? She was voluntold! No, that's not true. Well, maybe. Jessica is the perfect family member to train, compete and dazzle an audience all in the name of a good cause. She proudly accepted the honour to work with her assigned professional dance partner at Fred Astaire Dance Studios, Ben Speissens and looks forward to the challenge of participating in this premiere charity event on October 3rd, 2014.
Here's my interview with Jessica:
RL: What compelled you to accept the challenge to participate in DWESS?
JL: When I was asked to participate in this dance competition, I was extremely terrified. I have two left feet and have never taken a dance lesson. But having some knowledge about Easter Seals and the challenges these children face each and every day, I wanted to face my fears and join the cause to support the kids and provide opportunities for them to challenge themselves and to go above and beyond their limits.
RL: What type of dance are you performing and how many hours do you put in?
JL: My dance instructor and dance partner, Ben and I are dancing the Rumba and Merengue. I am in the middle of training with 15 sessions that are only 45 minutes long each!
RL: That seems like a lot of sessions and at the same time, not long enough to learn two dances. Do you find the training difficult?
JL: Ben is immensely talented and extremely patient with me. It is both fun and frustrating all at the same time! It's nerve racking to think that we will have to perform these two dances in front of a large audience, including my family and friends!
RL: Will you be wearing a "costume" that night or do you resort to something Rumba-ish from your own closet?
JL: Fred Astaire Studios in Oakville is where we are training and they are providing us with the dance shoes and two outfits to perform in.
RL: Do you practice at home with your husband?
JL: Mike is a huge supporter of my participation in this charitable initiative, but I don't even ask him to help me practice – his feet walk more like a duck!
RL: Good luck Jessica! We'll be cheering you on and dancing in our seats! (And I may be taking a photo or two ;-)
This year, the goal is to raise $100,000 for Easter Seals. If you would like to vote for our very own celebrity, Jessica Longo, you can vote and DONATE HERE. Each $20 donated gets 1 vote.
If you wish to purchase tickets and attend the event, you can find all the information at Dancing with the Easter Seals Stars - Halton.