Canadians love their bananas; in fact, bananas rank first in terms of volume of imported fruit to Canada. In 2016, we each consumed a whopping 15.7 kg of bananas! With growing consumer interest around food producer transparency, we've partnered with Equifruit to bring you premium quality Fairtrade, organic bananas to select Longo's locations in Toronto, including: Maple Leaf Square, Brookfield Place, First Canadian Place, HBC, Imperial Plaza, Elizabeth Street, Leaside and York Mills.
So, what makes a banana Fairtrade? Partnering with Equifruit means as buyers, they must respect transparent pricing, which reflects the cost of sustainable production. A social premium is also paid, which is used by producer partners to invest in community development projects.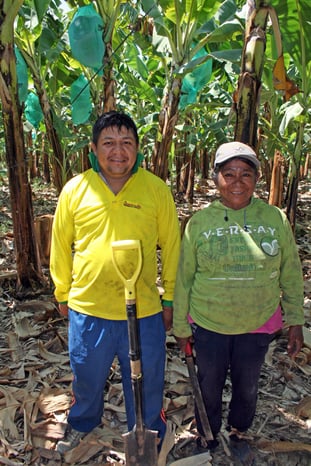 As sellers, Equifruit producers – located in Ecuador and Peru – must demonstrate fair wages, safe working conditions on their plantations, equal opportunity for women and no forced or child labour. For small producers like Juan Calderon More, Fairtrade partnerships have transformed his life and community. Fairtrade has allowed Juan and his farming family to own their own plantation and it has enabled them to make investments to improve productivity. The social premium has also benefited Juan's community, by allocating resources for improvements to schools and health care. This is all possible because customers like you are choosing to purchase values-based bananas here in Canada.
(Pictured: Juan Calderon More and his mum. -Image supplied by Equifruit)
In the end, the purchase of Fairtrade bananas serves as a reminder that behind every banana you eat, there are hard-working people who deserve a fair wage for the fruit we enjoy here at home.
When in doubt, be sure to look for the Fairtrade sticker on the bananas!