Cosmopolitan Cookies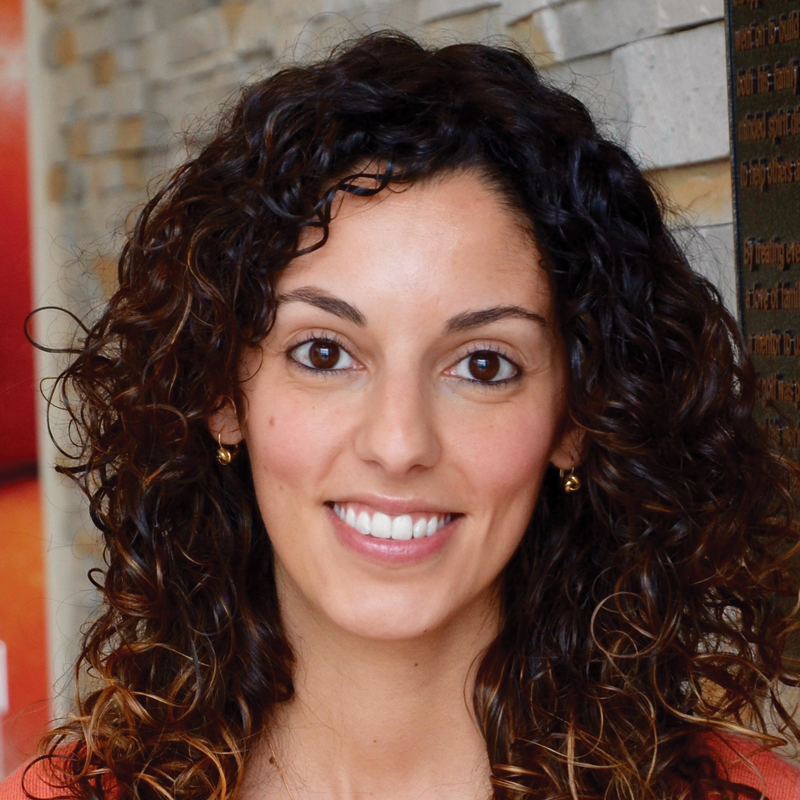 There's nothing like freshly baked treats to make guests feel welcome. Using classic cocktails as inspiration and choice ingredients like Longo's butter, organic flour and candied fruits, we've baked up sweet creations everyone will enjoy. Try our Cosmopolitan Cookie recipe and don't forget to check out the additional gluten-free & flavour variations below!
Prep: 15 min Chill: 1 hr Bake: 12 min Yield: about 48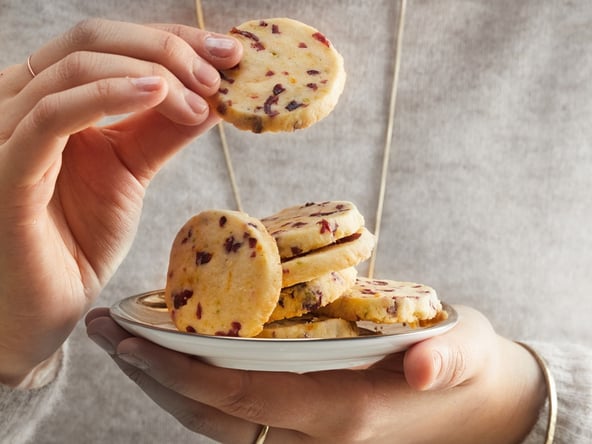 Ingredients:
2 cups Longo's Organic All Purpose Flour
3/4 cup icing sugar
Pinch salt
1 cup Longo's Unsalted Butter, cold and cubed
1 egg yolk
1 tsp pure vanilla extract
1/2 cup Longo's Dried Cranberries, finely chopped
1 tbsp grated lime zest
2 tsp grated orange zest
Directions:
Whisk together flour, sugar, and salt in bowl.
Using a pastry blender or fingers, cut butter into flour mixture until size of oatmeal pieces.
Blend in egg yolk and vanilla. Stir in cranberries, lime zest and orange zest until combined.
Divide dough in half and roll each portion into 8-inch long and 1-inch thick logs. Wrap in plastic wrap and place in fridge for at least 1 hour or until firm.
Preheat oven to 350°F.
Slice cookies into generous 1/4-inch slices and place on parchment-paper-lined baking sheets.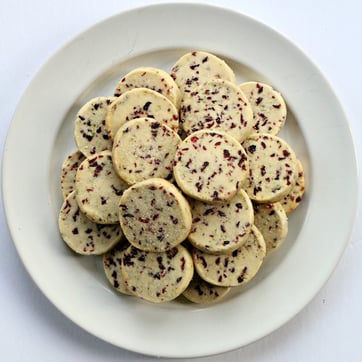 Bake for about 12 minutes or until outer edges turn golden brown. Remove from oven and transfer cookies to a wire rack to cool completely. (Make-ahead: Store at room temperature for up to 2 weeks or freeze in airtight container for up to 1 month.)
Per serving (2 cookies): 130 calories; 1 g protein; 8 g fat; 13 g carbohydrates; 0 g fibre; 5 g sugars; 5 mg sodium.
Gluten-Free Variation: Substitute gluten-free flour for all purpose flour.
Orange Date Variation: Replace cranberries with 1/3 cup Longo's Pitted Dates, finely chopped. Toss dates well with some flour to separate the pieces before adding to the batter. Omit grated lime zest and increase grated orange zest to 1 tbsp.