Hot, sticky, and sweaty. Perfect weather for a watermelon eating contest. Absolutely perfect!
On June 30th, 22 of our stores went through 11 truckloads of watermelon. And those watermelons didn't stand a chance against the likes of our young contestants.
Watermelon eating contests are serious business. You have to be willing to let that juice loose all over you. Down the front of you, in your hair' even up your nose if you have to.
Our fastidious contestants showed off an arsenal of methodical techniques, some chewing left to right, and others diving straight into the centre, hammering the melon down to the rind. Some pocketed the melon in their cheeks like squirrels harvesting for fall and then swallowed in one gigantic slurping gulp. (Watching a watermelon eating contest is not for the faint of heart.)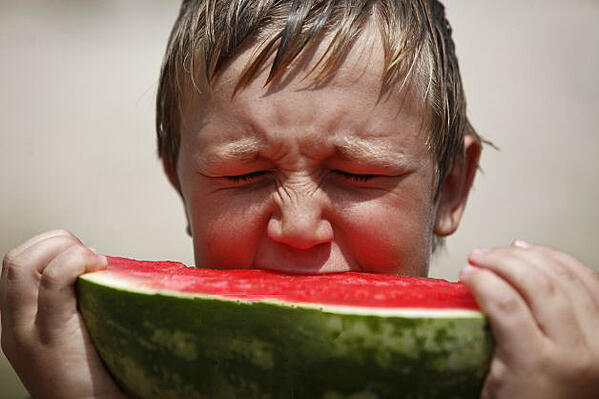 One small, spirited young man showed fierce determination in the battle to win his competition. He arrived at the table with a wiggly sweet tooth. And when that tooth finally gave way and flew out in a flurry of watermelon mania, he handed it quickly to his mom, and set right back to work without breaking his stride. Not only did that young man win the trophy, but he cashed in with the tooth fairy that same night!
His secret? Blood, sweat and watermelon equals very serious business.
Huge thanks to everyone who came out to enjoy the day with us. I think everyone is a winner eating watermelon on a hot day.
[shortgallery title="Watermelon Contest" gallerynumber="3125" pics="13"]