Over the years, my family has been witness to the many trials (and errors) I've performed in the kitchen. My motto when stumbling across new recipes to try was, well, that seems easy enough. In retrospect, some of my failures stemmed from not having a true understanding of the techniques that were implied by a single word in a recipe. Sear, poach, and blanch/shock to me meant a) make it dark, b) boil it, and c) somehow scare it into retaining its colour. Oh my naiveté. But if anybody could scare food in the kitchen, it would be me.
Here are those three basic essentials explained with the proper technique. I've included a recipe for each in order to test out those new skills. Click each image to go the recipe. :)
Technique 1: Poach
To cook completely submerged in a barely simmering flavoured liquid.
This is often confused with boiling, and also why meats can come out tough and delicate fish and eggs end up falling apart. The trick to this technique is all in the temperature. Poaching is all about the low simmer.
A low simmer produces just a few bubbles around the pan. Almost any liquid can be used, but most commonly water and broths are the go-to liquids for poaching. Add your favourite herbs and in-season veggies to the broth to add flavour and don't skimp on seasonings. Don't be afraid to add a little white wine, light sugar, or white wine vinegar to unlock the perfect bouquet for your meal.
Technique 2: Sear
To cook at high temperatures for a short period of time to produce a caramelized, brown crust.
Searing is used to create interesting texture and also for added taste. To sear, a cook needs a pan and high heat. (Although, it can also be done on the grill or in a broiler.) The meat you want to sear should be relaxed at room temperature, and then patted down with a paper towel to remove excess moisture. Moisture creates steam which hinders the browning process.
Ensure the pan has been preheated over high heat, some cooks may add a little oil, and then add the meat allowing it to completely brown on one side (undisturbed) before flipping to sear the other side.
Searing is often done in preparation, but it can also be done last, especially if cooking steaks on the grill. When grilling, sear the meat after you've cooked it through to the desired temperature.
Note: The idea that searing "locks in juices" is a bit of a myth. The browned crust is not waterproof and moisture will continue to escape during cooking. After the sear, finish cooking on an indirect (reduced) heat if necessary to ensure a juicy meal.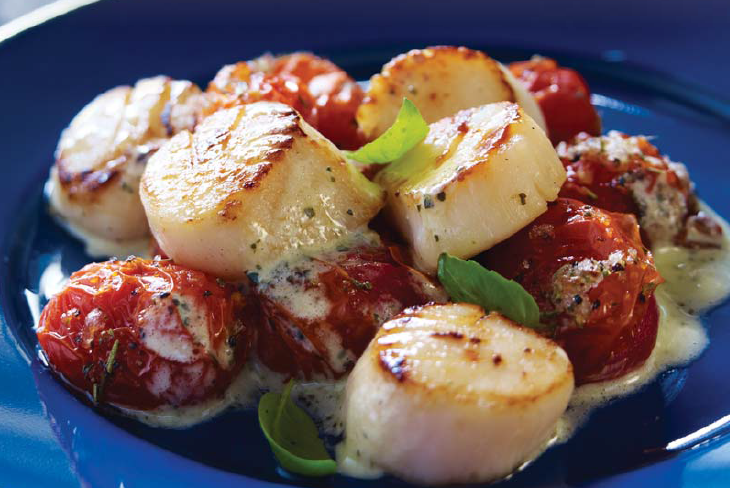 Sweet Roasted Grape Tomatoes with Pesto Scallops
Technique 3: Blanch and Shock
A technique of cooking items briefly in a large amount of rapidly boiling, salted water, and then stopping the cooking process quickly by plunging them in ice water.
This technique preserves the colour of vegetables in your dish and also helps firm the skin of fruit for easier removal. For example, if you're peeling peaches or tomatoes for canning. It also works for herbs if you want to keep them from browning in your sauces.
Ensure that your pot is big enough so that you don't overcrowd. Salted water keeps the boiling point and helps maintain the colour. Keep the lid off and your veggies will be properly blanched when they are no longer crunchy, but still offer resistance. When done, dunk immediately into ice water. Keep the water ice cold by adding more ice if necessary. When the veggies are cool to the touch, they're sufficiently shocked. To save time, prep your veggies ahead of time and then refrigerate until needed.
For the recipe below, try substituting the green cabbage with red (for a bright summery meal) and also to test out your blanch and shock technique. (You can also substitute the turkey with any leftover Longo's Signature rotisserie chicken you have from tonight's Dinner Night Done Right special!)