25 Years of Teeing Off for a Good Cause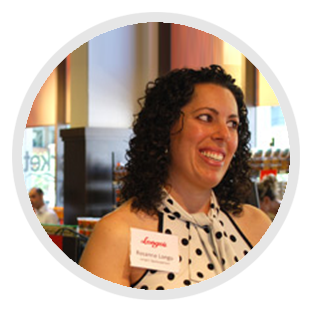 On June 17th, 2014, we not only celebrated our 25 year milestone of hosting our annual signature charity event, but we hosted our highest number of golfers ever with 502 over two shotguns. Through the generosity of our loyal vendors, we raised +$240,000, bringing our fundraising total over the past 25 years to more than $2.6 million from this event alone!
Proceeds were donated to SickKids and Markham Stouffville Hospitals, CNIBs Camp Lake Joseph and ErinoakKids Children's Treatment Centre.
Ambassadors from both the CNIB and ErinoakKids joined us for lunch and shared inspiring stories of their journeys and what the donated funds means to other kids experiencing their challenges.
The weather held up for us again until the last three holes of the afternoon tournament. It became very windy in the late afternoon and the storm couldn't hold off any longer around Lionhead - we had to blow the horns just before the torrential downpours came down. We were lucky though as this storm had caused significant damage around certain areas of the GTA. In fact, twice during the day as the storm headed towards Lionhead, the radar showed the storm splitting in two and actually veering around the golf course!
Our vendors enjoyed the opportunity to "Beat the Longo" by having Gus, Anthony, Joey and Mike Longo station themselves at four of the par 3s for a chance to hit it closer to the pin. The boys did great and gave out 77 Longo's Gift Cards between them. In the spirit of giving, they generously donated to the cause by writing personal cheques to the Longo's Family Charitable Foundation to cover the cost of the gift cards that they each gave away.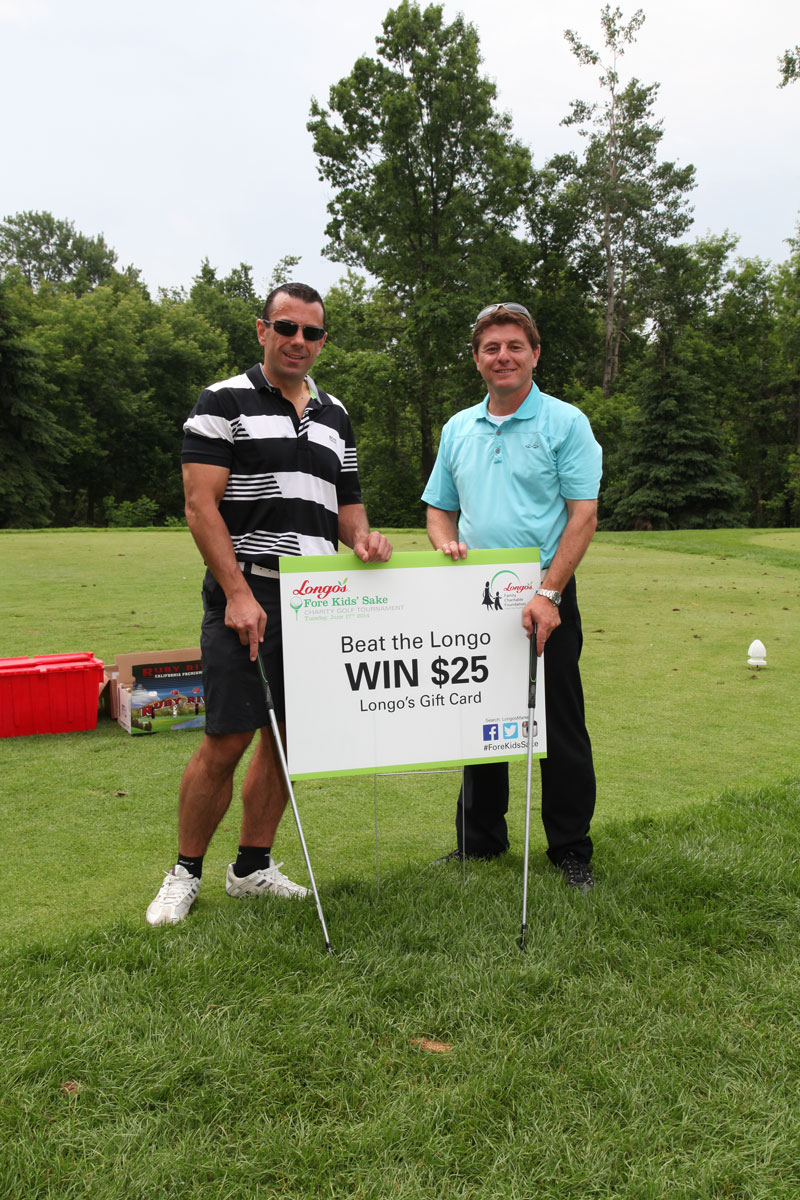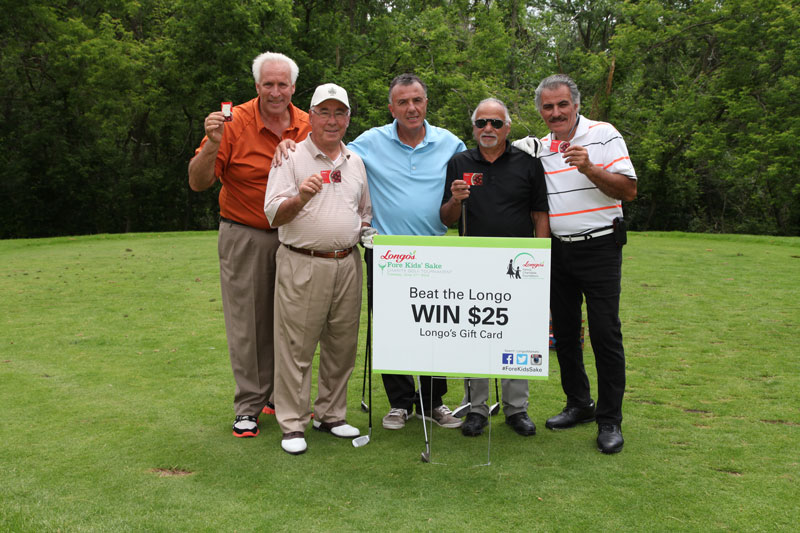 Our vendors generously donated food and beverages to keep the golfers well fed and hydrated throughout the day. From the breakfast, BBQ lunch and luncheon/dinners to all of the food sampling around the course, no one went hungry. Our participants particularly enjoyed the "food court" that featured Saputo's Mozzarella Bar event truck, Schneider's Hot Dog Truck, Yogurty's Event Truck and our Wheat and Corn Poppers complimented by Summer Fresh dips!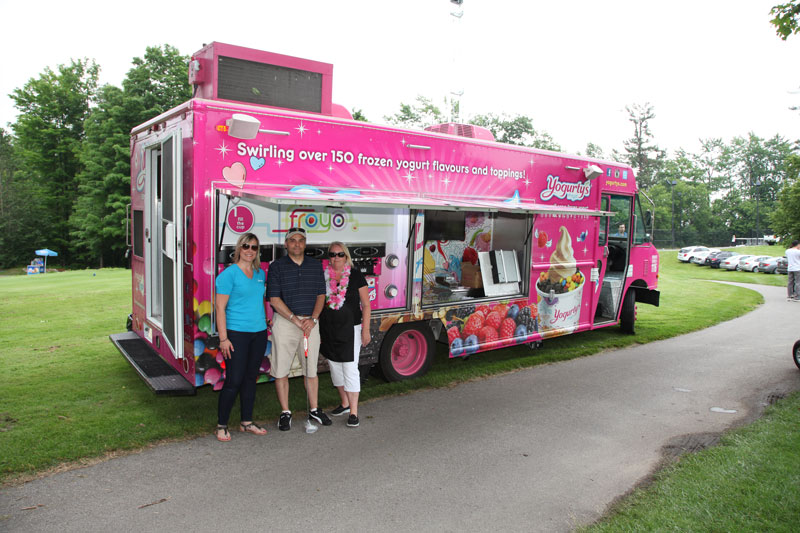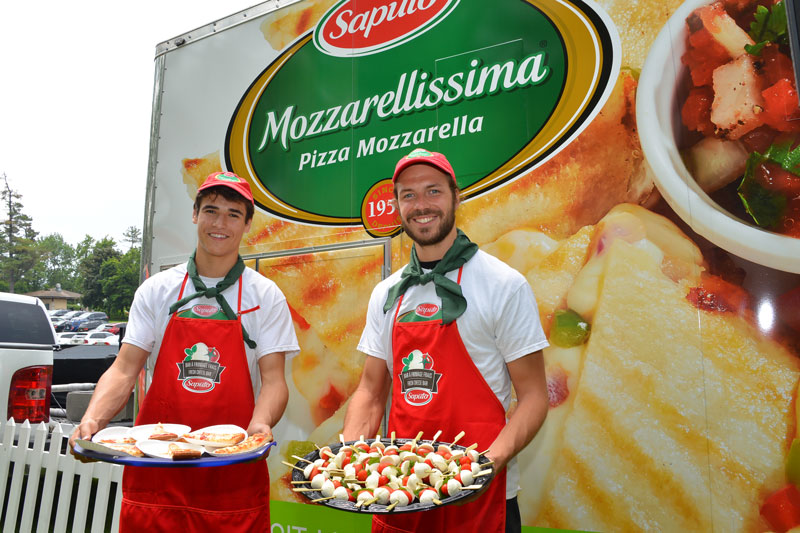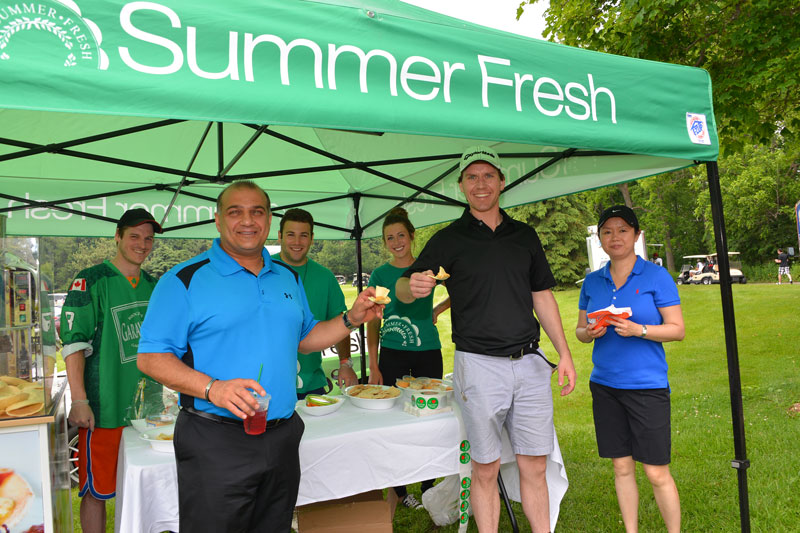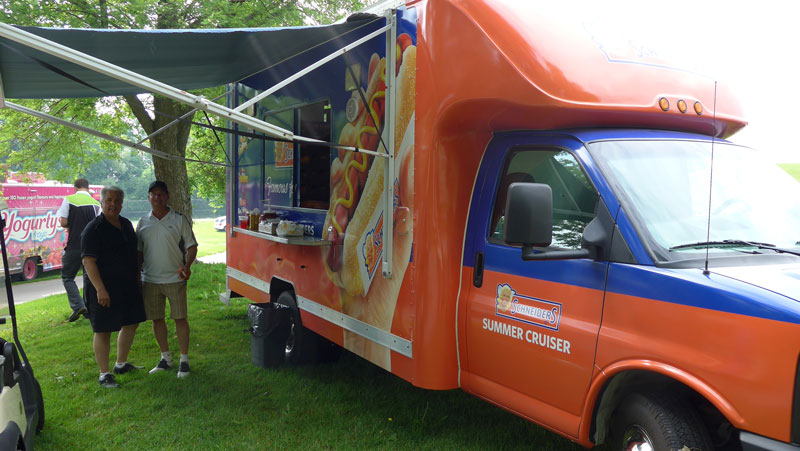 There was a lot of activity on social media using #forekidssake and acknowledgement to Stefania for providing the best title for this blog through her tweet:

Thank you to all of our helpers who contributed to set-up, registration, watching a hole-in-one hole or helping our Beat the Longo events!
Please visit www.longoscharitygolf.com to see all the photos from the day.